MetaDefender Drive
MetaDefender Drive is a portable USB-based solution to inspect transient devices for malware, vulnerabilities, and sensitive data before they enter or leave any organization.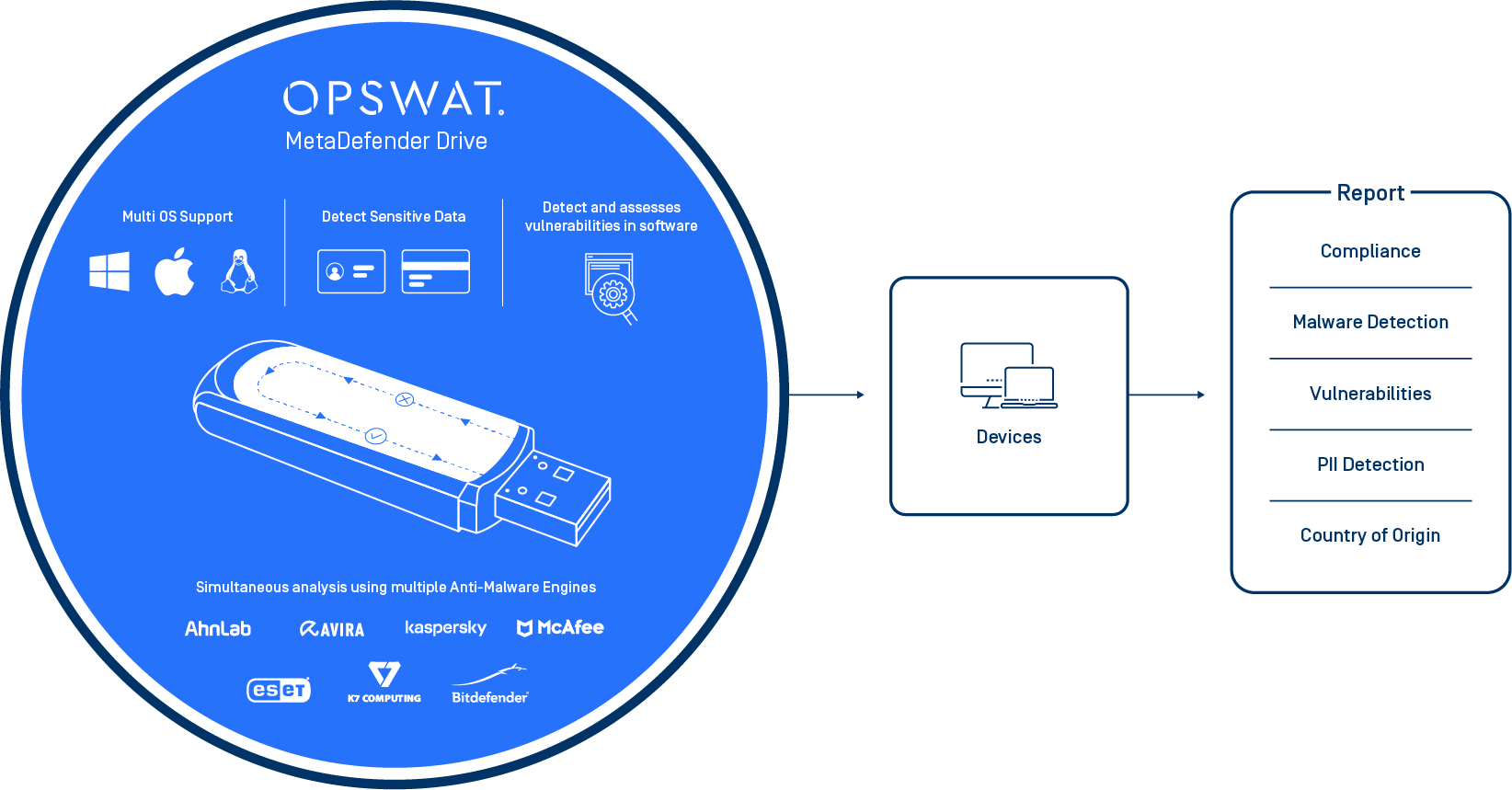 Detect malware that other solutions may have missed
Any entity that uses only one vendor antimalware and heuristics engine is placing their company at risk for Zero Day compromise. MetaDefender Drive leverages up to five anti-malware engines to increase detection rate to greater than 99% and reduce cyber risk.
Detect vulnerabilities when your devices are offline
MetaDefender Drive enables you to scan your devices for vulnerabilities within installed software, IoT controllers, and firmware updates.
Data Loss Prevention
MetaDefender Drive can detect sensitive and confidential data, such as PII, including credit card and social security numbers in documents, images, and videos.
Country of origin detection
MetaDefender Drive integrates Country of Origin detection to show the national origin of files about the developing countries of the applications of files. We can declare which countries of the software being published from maybe belong to the Government's foreign adversaries list.
Scanning from a secure system produces trusted results
Your device will boot from MetaDefender Drive's secure operating system which enables scanning your target system to the kernel level, all while it's not actively running. This warrants better detection of advanced malware like rootkits, which can be missed by traditional and next generation anti-malware.

MetaDefender Drive supports Windows, macOS, and Linux operating systems.
Manage to scale
MetaDefender Drive can be managed by OPSWAT Central Management remotely, perfect for large scale deployments. All the detailed analysis reports can be centrally collected, analyzed on a single pane of glass.
Report for better decisions
MetaDefender Drive generates a detailed report that enables you to make informed decisions with trusted results.